If you know why you're reading this already, skip to the code. Otherwise, here's some explanation. In a project Work Breakdown Structure (WBS), tasks are organized into major tasks, sub-tasks, sub-sub-tasks, etc. as in the following example which is an actual project plan used by NASA: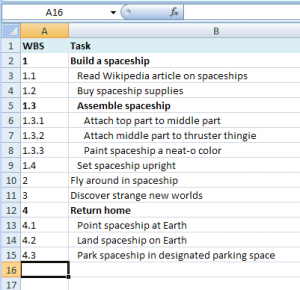 Instead of sequentially numbering the tasks, we assign subtask numbers to those tasks that roll up under other tasks. Assemble spaceship is a subtask of Build a spaceship so it gets Build a spaceship's number (1) plus a subtask number (3, since it's the third subtask) so its WBS number is 1.3. Attach top part to middle part is a subtask of Assemble spaceship, so it gets 1.3 plus a sub-subtask number (1.3.1), and so on. MS Project also bolds any items with subtasks.
Since this type of WBS or outline numbering functionality isn't available in Excel, it requires a VBA macro.
Notes
1.

Here is a sample spreadsheet, complete with the code and a command button, for those who want something ready-to-use.

2.

Tested in Excel 2003 and 2007 for Windows.

3.

The macro is based on the concept that the indentation of a particular task in column B dictates its WBS "depth" (whether it's a task, sub-task, sub-sub-task, etc.). WBS numbering will be created in column A.

4.

The macro renumbers everything at once, so after you add this macro to your project's VB code, create a button or other control that runs the macro.

5.

It requires certain formatting. Read all of the formatting assumptions, commented at the top of the macro.
VBA Code for WBS numbering in Excel
1

2

3

4

5

6

7

8

9

10

11

12

13

14

15

16

17

18

19

20

21

22

23

24

25

26

27

28

29

30

31

32

33

34

35

36

37

38

39

40

41

42

43

44

45

46

47

48

49

50

51

52

53

54

55

56

57

58

59

60

61

62

63

64

65

66

67

68

69

70

71

72

73

74

75

76

77

78

79

80

81

82

83

84

85

86

87

88

89

90

91

92

93

94

95

96

97

98

99

100

101

102

103

104

105

106

107

108

109

110

111

112

113

114

115

116

117

118

119

120

121

'

Renumber

tasks

on

a

project

plan

'

Associate

this

code

with

a

button

or

other

control

on

your

spreadsheet

'

Row

1

contains

column

headings

'

Column

A

contains

WBS

numbers

'

Column

B

contains

Task

description

,

with

appropriate

indentation

'

Some

text

(

here

we

assume

"END OF PROJECT"

)

delimits

the

end

of

the

task

list

'

Hide

page

breaks

and

disable

screen

updating

(

speeds

up

processing

)

Application

.ScreenUpdating

=

False

ActiveSheet

.DisplayPageBreaks

=

False

'

Format

WBS

column

as

text

(

so

zeros

are

not

truncated

)

ActiveSheet

.Range

(

"A:A"

)

.NumberFormat

=

"@"

Dim

r

As

Long

'

Row

counter

Dim

depth

As

Long

'

How

many

"decimal"

places

for

each

task

Dim

wbsarray

(

)

As

Long

'

Master

array

holds

counters

for

each

WBS

level

Dim

basenum

As

Long

'

Whole

number

sequencing

variable

Dim

wbs

As

String

'

The

WBS

string

for

each

task

Dim

aloop

As

Long

'

General

purpose

For

/

Next

loop

counter

basenum

=

0

'

Initialize

whole

numbers

ReDim

wbsarray

(

0

To

0

)

As

Long

'

Initialize

WBS

ennumeration

array

'

Loop

through

cells

with

project

tasks

and

generate

WBS

Do

While

Cells

(

r

,

2

)

<>

"END OF PROJECT"

'

Ignore

empty

tasks

in

column

B

If

Cells

(

r

,

2

)

<>

""

Then

If

Rows

(

r

)

.EntireRow

.Hidden

=

False

Then

'

Get

indentation

level

of

task

in

col

B

depth

=

Cells

(

r

,

2

)

.IndentLevel

'

Case

if

no

depth

(

whole

number

master

task

)

'

increment

WBS

base

number

'

Case

if

task

has

WBS

depth

(

is

a

subtask

,

sub

-

subtask

,

etc

.

)

'

Resize

the

WBS

array

according

to

current

depth

ReDim

Preserve

wbsarray

(

0

To

depth

)

As

Long

'

Repurpose

depth

to

refer

to

array

size

;

arrays

start

at

0

'

Case

if

this

is

the

first

subtask

If

wbsarray

(

depth

)

<>

0

Then

wbsarray

(

depth

)

=

wbsarray

(

depth

)

+

1

'

Case

if

we

are

incrementing

a

subtask

'

Only

ennumerate

WBS

as

deep

as

the

indentation

calls

for

;

'

so

we

clear

previous

stored

values

for

deeper

levels

If

wbsarray

(

depth

+

1

)

<>

0

Then

For

aloop

=

depth

+

1

To

UBound

(

wbsarray

)

'

Assign

contents

of

array

to

WBS

string

wbs

=

wbs

&

"."

&

CStr

(

wbsarray

(

aloop

)

)

'

Populate

target

cell

with

WBS

number

'

Get

rid

of

annoying

"number stored as text"

error

Cells

(

r

,

1

)

.Errors

(

xlNumberAsText

)

.Ignore

=

True

'

Apply

text

format

:

next

row

is

deeper

than

current

If

Cells

(

r

+

1

,

2

)

.IndentLevel

>

Cells

(

r

,

2

)

.IndentLevel

Then

Cells

(

r

,

1

)

.Font

.Bold

=

True

Cells

(

r

,

2

)

.Font

.Bold

=

True

'

Else

(

next

row

is

same

/

shallower

than

current

)

no

format

Cells

(

r

,

1

)

.Font

.Bold

=

False

Cells

(

r

,

2

)

.Font

.Bold

=

False

'

Special

formatting

for

master

(

whole

number

)

tasks

)

If

Cells

(

r

,

2

)

.IndentLevel

=

0

Then

Cells

(

r

,

1

)

.Font

.Bold

=

True

Cells

(

r

,

2

)

.Font

.Bold

=

True

'

Add

whatever

other

formatting

you

want

here